Saving for Retirement While Raising a Family
In today's unstable economy, saving for retirement is more important than ever! Investing for your future now will give you and your family peace of mind, knowing that you will be taken care of after retirement.
We cannot depend on social security anymore. We must create our own security by planning for retirement from the earliest possible age.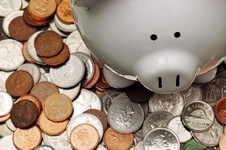 Why is it so important to start saving for retirement when you're still young? It's simple…compound interest. The earlier you start saving, the more money you will build through compound interest. So you can invest less, and earn more!
Now, we have some great advice on retirement planning, but we know you are anxious to know how much you need to be saving. So…go ahead and go play with the investment calculator if you want to. Find out how to become a millionaire! Just don't forget to come back and read all the important information we have for you, so you can actually start saving!
Now let's get down to business…
Before you even think about saving for retirement, you need to have a fully-funded emergency fund of 3-6 months expenses, and you need to be completely out of debt , except for your mortgage. This will provide you with the financial security you need now and free up monthly income for investing. If you have those two things done, you're ready to take the next step.
Start by asking yourself a few questions…
How old do you want to be when you retire? What kind of lifestyle do you want to lead after you retire? Do you want to travel? Do you have a lifelong dream you plan to fulfill? Where will you live? Would you like to bless your family financially by paying for your grandchildren's college? Do you want to work a part-time job? How much will your hobbies cost? What if you needed full-time nursing care at some point?
Take the time to write out the answers to these questions, and any others that come to mind concerning your life during retirement. All of these answers will help you determine how much money you need to be saving now.
Some other things to think about…
What will your budget look like after you retire? There are some expenses that will decrease, such as work clothing, gas, and maybe life insurance (if you've saved enough to live without it). Others will have gone away completely-you won't be raising children anymore and hopefully, your mortgage will be paid off.
Some costs will likely increase, though, such as medical bills and travel expenses.
Write out a sample budget to calculate how much money you will need each month to live comfortably during retirement. Multiply that number by 12 to get your annual income needed.
So how much of a nest egg do you need? Here's a formula to help you determine that…
Annual Desired Income / Interest (minus inflation 4%) = Nest Egg Needed
Future values can get a little complicated, so use the retirement calculator to see how much you need to be saving each month. This calculator is a little different from the one we sent you to earlier, so feel free to use them both.
Don't forget to pad your numbers a little so that you end up with a little more than you actually need. There are always unforeseen circumstances that can come up, and you want to be prepared.
How Do I Invest My
Retirement Savings?
Now that you know how much you need to be saving for retirement, what's the best way to invest it?
First, take advantage of employer matching plans. Why wouldn't you take free money, plus all the interest it would earn? That's a no-brainer! Get the maximum match!
Next, fully fund a Roth IRA, if you qualify (most of you will). It grows tax-free and offers a lot of flexibility!
Finally, utilize pre-tax investments. Traditional IRAs, 401(k), 403(b), 457 Plans and SEPPs.
Your goal should be to invest 15% of your gross household income into qualified retirement plans.
That might sound like a lot, but if you're debt-free, you should have no problem reaching 15%. Just make sure your priorities are in order.
Saving for retirement is not something we all want to think about right now, but it will be well worth it in the future. Won't it be fun to be a millionaire when you retire?!




Family Budget| Cash Budget Envelope System
Bill Paying System| Emergency Fund| Debt Snowball
---
Subscribe to "The Calm Mom" Newsletter
Leave Saving for Retirement Page
and Go Back to Financial Plan Page