A Realistic Financial Plan
for Busy Moms
Money…you work hard to get it…and then you turn around and it's gone…How do you ever get ahead? Don't you wish you had a financial plan that worked?
We have good news! We have found a plan that works, and works wonderfully well! The plan that we follow comes from a man named Dave Ramsey. You may have heard of him. His financial plan is changing people's lives all over the nation.
In this section of Get-Organized-Mom.com, we are going to scratch the surface of some of his best advice. However, if you are really ready to get your finances in order and start your family on a path to financial freedom, we recommend that you go to daveramsey.com and purchase one of his books or join his program.
***Note*** We are not receiving any commission for recommending Dave Ramsey or his products. We just believe in his financial plan and would like others to experience the same financial peace that we have found.
We will be offering a few of our own tidbits as well, such as how to organize bills and work your financial plan into your daily life as a mom.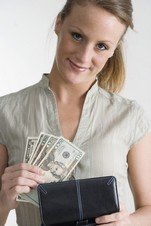 Are you wondering why we're giving you someone else's ideas instead of our own? It's simple…when you find a good thing that works well, you stick with it. This works for us and it will work for you too.
Dave has set up specific steps for you to follow that he calls "Baby Steps". We are not going to take you step-by-step through his plan, because we don't want to take away from his business. We will, however, touch on several important aspects of his financial plan that will get you going in the right direction.
Remember…if you would like to have more information on the Dave Ramsey plan, go to daveramsey.com.
One last thing before we get started…Organize your finances in the same way you do the other areas of your life. Take your time-do it one step at a time-don't give up. Slow and steady wins the race.
Now let's get started…
---
Steps for a Great Financial Plan
A Family Budget -This is the first habit you need to form. You must know where your money is going.

Cash Budget Envelope System -Not the most popular choice in the world of debit cards, but this change will really make a difference in your spending.

Bill Paying System -Here are our mom tips to make this work for you. We have an easy bill paying system that will work for busy moms!

Emergency Fund -Stop depending on those credit cards to fund life's little surprises.

Debt Snowball -Get rid of that debt, once and for all!

Saving for Retirement -We'll all be there someday…don't let it sneak up on you!
Check back soon for info about College Planning and Investing!

If you will put these steps into place in your life, you will not only create a financial plan that works for your family now, but you will create a legacy of financial freedom in your family for generations to come!
What an incredible feeling!
---
Here's another site you might like...

Frugal-Up Frugal and Simple Living Tips.
---
Subscribe to "The Calm Mom" Newsletter
Leave Financial Plan Page
and Go Back to Get-Organized-Mom.com Home Page