Get My Family Organized
Are you screaming, "Please help my family get organized!"?
School, chores, sports, meals, extra-curricular activities, church, volunteer work, friends, family events, homework, etc., etc., etc.
It's no wonder families can't seem to keep up. Life is busy!
So how do you manage it all without losing your mind?
Don't worry…we can help!
"But my family won't help me do this!"
Just like your home organization, take family organization one step at a time. Don't throw a bunch of new things at your family all at once. Let them get used to one thing before you add in the next step.
"So how do we get started?"
We have our suggestions here, but you should start with the area that causes the most stress in your life. Get that area under control, and then move on to the next. Remember, we want to see results now. So pick something that is going to be quick and easy for you to put into place.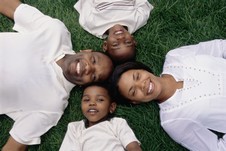 Family Management Topics
Family Schedules -Time management is so important for your sanity!


Family Routines -This is different from the schedule…and very important!


Family Time -You have to make time for your family. We'll show you how to make time for each family member individually (your husband too!) and for the whole family together.


Family Meals -From grocery shopping to lunch boxes to Sunday dinner...we'll help you set up a plan that works!


Homework Help Tips -Here are some tips that will save you and your kids time and make school and homework more enjoyable!

Family Chore Charts -When everyone helps out, things go so much smoother (and stay cleaner too!).

Family Calendar -Whether it's extra-curricular activities, doctor appointments, volunteer work, or anything else your family has committed to doing…we'll help you juggle it all (or know when it's okay to drop the ball)!


We know there is a lot here to work on. Take your time. Remember…one thing at a time. Don't let yourself get overwhelmed with this. We're making your life easier!
Just think, next time someone asks you how you do it all, you can say "Get-Organized-Mom.com helped me get my family organized!".
Custom Search
---
Are you looking for To Do lists to help plan and organize life? Download checklists to help with grocery shopping, party planning, vacation planning and more at Plan-and-Organize-Life.com.
---
Discover the simple but profound difference clear, firm and consistent parenting will bring to your family. Read how to enhance your children's happiness, self esteem and responsibility while at the same time being enabled, as a parent, to increase and develop your own emotional maturity. www.consistent-parenting-advice.com
---
If you sometimes feel overwhelmed and alone, know that you are not. Take advantage of the research and findings on www.essential-tips-for-moms.com.
Advice for moms includes everything from how to be a happy mom, to finance, to parenting tips, to PMS, and more.


---
Leave My Family Page
and Go Back to Get-Organized-Mom.com Home Page