Family Meal Planning
Family meal planning is a tough job for busy moms!
Some of you may be laughing right now, thinking "No it's not. I just drive through and get something on the way to the next activity!".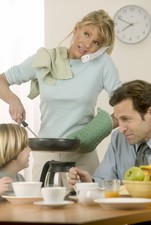 Shame, shame, shame…
We all have those kinds of days, when there is just no way we're going to have time to cook. However, if we plan ahead, we can have healthy meals for our family that are much easier on the pocketbook than a drive-thru window.
Don't believe us? That's okay.
We know that by the time you've read this page, you will be convinced family meal planning will work for you and your family, even on a tight schedule and a tight budget!
Family Meal Planning System
Family Meal Planning is going to take a little bit of prep work. But once you've got your system in place, meal planning is going to be a breeze!
So let's get started…
Step One: The Great Clean-Out
No, this is not going to be very fun, but it's got to be done. It's the first step of meal planning. Get the family involved…it won't hurt 'em! It's the perfect opportunity to spend some quality family time together, making your life better together!
Here's what you've got to do…get into those refrigerators, freezers, and pantries and clean 'em out!
Get rid of anything that is outdated or growing something. All that stuff with freezer burn has got to go too. If it's still good, but you know you're family won't eat it, give it to someone who will.
While you're in there, you might as well give it a good scrub-down too. If you're working in a clean space, you'll enjoy it more.
Okay, the dirty work is done. Let's move on…
Step Two: The Never-Ending Pantry (and Freezer)
We've got to get those pantries and freezers stocked.
"But I just cleaned them out! Why would I fill them right back up?"
Here's why…You're going to stock them with items that you should always have on hand. That way, you always have something that you can prepare for your family. Fewer excuses for eating out…
It's not that we're totally against eating out. There's nothing wrong with eating out on occasion. But we're trying to help you improve your quality of life in several areas through family meal planning.
Cooking and eating at home will save you money. It will increase and improve your family time. It will teach your children important life skills (grocery shopping, cooking, doing dishes, providing for the needs of your family). It will improve your family's health (unless you do corn dogs and fish sticks for every meal!).
Bottom line: Cooking and eating meals at home with your family is just a good thing to do!
Now…off of our soapbox and back to our pantries…
We have a list of recommended items to keep in your pantry and freezer. Be smart about this, though. If we have something listed that you know you would never use, don't buy it. If we don't have something listed that your family can't live without, add it to the list.
For a list of recommended items to always have in your pantry, click here.

For a list of recommended items to always have in your freezer,
**NOTE**You will need Adobe Reader (the latest version is recommended) installed on your computer in order to view these files. You can get Adobe Reader here (a new window will open so you can download it without leaving this page).
We realize that you probably won't be able to stock your pantry and freezer in one shopping trip. Spread it out as your budget will allow. Don't worry if it takes a couple of months or so to get this done.
Another side note…
We LOVE warehouse shopping! If you have a Sam's or Costco nearby, get a membership.
You won't be able to get everything you need the first time. But if you go once a month, you'll begin stockpiling the things you use most often. Most items are less expensive if you buy in bulk. Pretty soon, you'll find yourself making fewer trips to the grocery store. Plus, you'll never run out of the things you need!
What's next?
Step Three: Menu Planning
What? You want me to actually plan a menu?
Yep! You'll be thanking us in a few weeks!
This is a crucial part of family meal planning. If you take the time to plan a menu, it will save you time and money. You'll always know what you need when you go to the grocery store, so you can just get it and go. No more wasting time and money shopping for things you don't need!
Eventually, your goal should be to do your meal planning by the month. If that's too much for you right now, start by planning a weekly menu.
Include all meals, breakfast, lunch, and dinner, that will be prepared at home. This includes lunchboxes. If you plan to eat out for dinner on a certain evening, just write it in for that meal. With Family Meal Planning, you always know where your family's meals are coming from.
For snacks, include a list of snacks that will be available to the family for that time period (week or month). You probably don't want to specify which snacks will be consumed on each day, but you need to have them listed, so you don't forget to purchase them at the grocery store.
Now for the actual menu and meal planning…
Get your family in on this! Ask each family member to tell you his/her five favorite meals. You will have a great starting point for your menu. Make a list and keep those meals in the rotation. When you try something new, ask your family if they liked it. Then you can decide whether to add it to your list or kick it to the curb.
Here's a great resource for quick, tasty family meals… Food and Family by Kraft Foods . It's completely free! The website is great, but you can also get a free subscription to their magazine. It comes at least once a season and is just full of great family recipes. We highly recommend this website and magazine!
Okay, now that you've got a good list of meals going, you can start filling in your menu. You can download the ones we've provided below, or make your own.
For a weekly menu you can print out and use,
click here.

For a monthly menu you can print out and use, click here.


**NOTE**You will need Adobe Reader (the latest version is recommended) installed on your computer in order to view these files. You can get Adobe Reader here (a new window will open so you can download it without leaving this page).
Now just fill in the boxes!
Include variety, but also plan meals that will work together. For example, if you boil a whole chicken on Sunday, you can make several meals with it throughout the week (chicken and dumplings, chicken and rice casserole, chicken tacos, chicken pot pie). So you don't want to eat chicken that many times in a week? No problem! Make up a casserole or pot pie and throw it in the freezer for the next week.
If fact, any time you make up a casserole or something else that can be frozen, make two. Eat one and put the other in the freezer. This will be a big help on those busy evenings when you don't have time to cook. Just move it from the freezer to the fridge on the morning you plan to serve it for dinner. Then stick it in the oven or even the microwave when you get home. Dinner is served!
Don't forget to schedule in times for the family to eat leftovers as well. If you make spaghetti on Monday and a casserole on Tuesday, you're bound to have some leftovers. On Wednesday, just write "leftovers" into the menu. Your family can have a choice, you don't have to cook, and food doesn't go to waste!
If you've got a slow cooker, use it at least once a week. There are a million different meals you can cook in it, and it will save you a ton of time, for both meal prep and clean up!
Menu and meal planning can be a fun experience. It can help you to try new things. It can also help you keep your family's health in check. You'll be more aware of how often your kids are eating junk food versus veggies, so you can keep things balanced.
Have you got your menu filled in? Time to go shopping!
Step Four: Grocery Shopping
Now hold on to your purse…you're not headed to the grocery store just yet! You've got some more work to do first.
Go back to your menu. As you look over your menu, check your refrigerator, freezer, and pantry for items you will need to prepare each of the meals on your menu. For any items that you don't already have on hand, put them on a shopping list.
Once you've completed the list for your menu, check for any additional items you may need, both in the kitchen and throughout the rest of the house. Add any needed items to the list.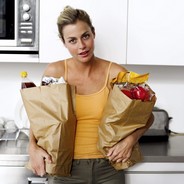 When your list is complete, grab your coupons and head to the grocery store. (If you're a coupon-clipper, go through your coupons before you leave the house and take out the ones you will be using. Put them in your wallet, so you don't forget to use them at checkout.)
Here's a great website for coupons and grocery cost-cutting ideas...
www.couponmom.com
Once in the store, don't get distracted. Get the items on your list and get out of there! Remember, no wasted time or money…
When you get home, put everything away in an organized manner, so that you can find items when you need them.
Put the menu up on the fridge where everyone can see it. The kids will love to see when their favorite meal is coming up!
Step Five: The Fun Part
Now you've spent all of the necessary time for meal planning and you're ready to prepare those wonderful meals for your family! Once again, get the family involved. Kids love to help cook, and you can always find tasks to suit each one's age and skill level.
Make sure you start with an empty dishwasher or sink. Fill the dishwasher or wash the dishes as you go. This will be a lot easier to accomplish if you have helpers in the kitchen. It will also make the after-dinner chore seem like a breeze.
It's very important to have as many meals at the family table as possible. Use this time to connect and communicate with your family. But make sure the conversation stays positive! The family dinner table should always be a welcome place. Don't ruin it by using that time to discipline your kids or argue with your spouse. Save those things for another time. Use the dinner table to enjoy your family!
Step Six: Clean Up!
This is going to be easy! Have each person clear his/her spot at the table as soon as dinner is over. Except for those that are too small, have each person rinse their dishes and put them in the dishwasher or sink-full of soapy water immediately.
The rest of the dishes should already be in one of those two places. You did that as you were cooking, remember?
Then just start the dishwasher or finish washing the dishes, wipe everything down, and your done!
Put the clean dishes away before you go to bed, so you start the next morning with a clean kitchen. That's it!
Family meal planning really does have great benefits, don't you agree?
Subscribe to "The Calm Mom" newsletter for more great tips on family meal planning.
Family Schedules| Family Routines| Family Time
Homework Help Tips| Family Chore Charts| Family Calendar
---
Cooking is Easy and Fun - Easy Recipes and Cooking Techniques to assist people new to cooking, learn about cooking. Anyone can learn about cooking; it is easy and fun! Recipes are quick, simple and delicious.
---
Subscribe to "The Calm Mom" Newsletter
Leave Family Meal Planning Page
and Go Back to My Family Page