Finding Time for Family Time
We all understand how important family time is. The problem is that we are all so busy that we can't seem to fit it into our schedules. The lifestyles that most of us live have family members constantly going in different directions.
So how do you find time for everyone to be together?
Well, we're going to help you out with that. But first, we need to tell you a little secret. Are you ready...okay, here it is...
You may have to MAKE time for family time by getting rid of some other things from your schedule!
Yep...that's what we said. If you don't have time to bring your family together, it's time to let something else go!
It's that important.
Kids grow up fast, and we've only got one chance to raise them.
So let's do it right!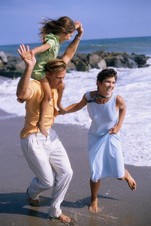 Show them how much you love them by spending quality time with them. Get to know them. Encourage them. Be involved in their lives. Listen to them. Teach them. Learn from them.
Let them know how special you think they are.
There's no downside here!
Only positive things can come from this!
Let's make spending time together as a family a priority!
Fitting It In
You're convinced you need to do it...now how do you make it happen?
Here is a plan that will work. You may need to adjust it to fit your family's needs, but the basic principles can be used by everyone.
Operation Family Time
For Day-To-Day Family Time...
Work bonding time into your daily activities-meal times, bedtimes, homework, play time, etc. During these times, turn off the TV, the computer, the cell phones, and anything else that can be a distraction.
Use this time to focus on your family-whether it's the whole family together or only one individual. Have meaningful conversations. Play a game. Have fun together!
Stick to your family schedule . This will ensure that opportunities for bonding are available. It will also give you time to connect with your husband, which is important for the well-being of your family.
For Extra-Special Family Time...
1. The whole family should come together at least once a month to spend time together. Once a week is better, but not all families can make that happen.
2. Each child should be given individual attention by each parent individually or both parents together at least once a month. Again, if you can do it once a week, go for it!

3. You and your husband should hire a babysitter at least once a month and go out on a date! You'll be better parents if you give yourself a little space once in awhile.
4. Include all family time on the family calendar . And then do it! Don't disappoint your family.
5. Be creative with each of these activities. Make it exciting for your family, so they will look forward to it. Do things that will allow you to communicate with each other. Get input from the whole family about what kinds of activities they would enjoy.
You don't have to spend a lot of money on this. There are plenty of things to do that don't cost much.
Low Cost Ideas for Family Time
Most of us are on a budget these days, but we still need to make time for our families. Do you have an idea for a low cost way for families to spend time together? Please share it with us!
Ideas From Other Visitors
Click below to see ideas from other visitors to this page...

Pizza and Movie/Game Night Not rated yet
Every Friday night we make homemade pizza and have either movie or game night. We have a membership (which was free for the first 2 weeks) with Netflix. …
Scrapbookin' Time Not rated yet
I have four girls of various ages. We go through our pictures of our vacation (during the summer) and also things we have done as a family like going to …
Each family is different, so make this plan work for your family. The important thing is just to spend time together.
It WILL be a blessing to your family!



---
Need ideas for fun family games to play during your family time? Check out www.Games-Families-Play.com for tons of family fun!
---
Busy Bee Kids Crafts Free instructions to make unique kids crafts for all occasions. All of our crafts for kids are inexpensive (often free) and are clearly explained with easy to follow directions and pictures. Most importantly, they are fun crafts to make!


---
Family Schedules| Family Routines| Family Meals
Homework Help Tips| Family Chore Charts| Family Calendar
---
Subscribe to "The Calm Mom" E-zine
Leave Family Time Page
and Go Back to My Family Page