Home Organization
For Busy Moms
Home organization can be one of the most overwhelming tasks faced by busy moms. We all want our homes to be organized, but actually getting it done is no easy feat.
We try to start getting things in order, but no one else in the house seems to care. After all, does it really matter to your toddler and your pre-schooler if their books are in alphabetical order? They're just going to throw them on the floor and tear the pages out anyway!
Now don't get worried...we're not going to tell you to alphabetize your children's books. Home organization is supposed to be about making life easier. We are not going to suggest that you waste your precious time completing tasks that are really not necessary and will be undone almost immediately.
What we are going to suggest, is that you use this resource to find the home organization tips that will work for your family and put them in place one at a time.
Do what you can, when you can. And don't get discouraged. It will take some time to get your whole house organized.
And yes, you do need to get your family on board at some level. But do it slowly. Don't expect them to change everything at once. Let them get into the habit of one new way of doing something before you introduce the next.
So where do you start?
We suggest you start at the front door...or the back door...or wherever it is that you leave and enter your house most frequently. Setting up a mud room "out the door" station will get you started with a great foundation for your organized home.
The laundry room will be a good place to turn to next. If you use the tips we provide, you might start to secretly enjoy the laundry experience!
From there, move on to the areas that are most-used by the family-the kitchen, bathrooms, and
family room. When you get to the bedrooms , start with the closet . That will open up valuable storage space as you declutter and organize.
Don't forget about the home office area. Getting this space organized will really help when you begin to organize your finances.
Finally, tackle that garage ! (That's where you've been putting all the clutter you've taken out of the house, right?) We know you're tired, but don't quit yet...you're almost there!
Okay, got the garage done?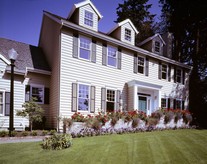 Congratulations!
You have an organized home!
Once you've moved through the whole house, all you have to do is maintain. We know that sounds easier than it really is. But remember...take it slowly, one step at a time. Let everybody get used to one new thing before you introduce the next.


Home organization should relieve stress, not create it.
Have you got your
family and your home organized? Now you're ready to move on to the next area of your life that needs to be organized...your finances . Buckle up and get ready for a ride...this is going to be fun!
---
Here are some other great sites that we think you'll like--
Frugal Living Tips Frugal Living Tips on how to lead a less wasteful lifestyle without debt, and still to be able to enjoy all the good things that life has to offer.


Need help organizing your homeschool? Ideas and encouragement for future, new and veteran homeschoolers.
---
Subscribe to "The Calm Mom" E-zine
Leave Home Organization Page and
go back to Get-Organized-Mom.com Home Page