Organized Bedroom Designs
Organized bedroom designs will make a world of difference in the way your bedrooms function and stay clean. When everything has its own place, it's less likely that clutter will take over. Of course, someone has to put things in their place, or this concept won't work!
Different bedrooms have different purposes. There are some ideas that will apply to all bedroom designs-others will be specific to the use of the bedroom. These first tips will apply to every bedroom.
Organized Bedroom Designs
for All Bedrooms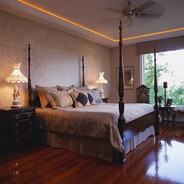 Since you already have your closets cleaned and organized (you do, don't you?), the bedrooms will be easy! So…what do we do first? Uh-huh…clean and purge! You're a pro at this by now!
Start with the things that can be seen. Piles on the floor, toys strewn everywhere, open bookshelves, tops of dressers. Get rid of things that are not necessary. Be picky! Only keep the things that are really important to you. Donate or sell the rest.
Next move on to the areas that aren't so noticeable. Inside the dressers and under the bed. Pretend like you're at a stranger's house as you do this. It will make you really think about whether or not something is worth keeping.
As you put clothes back into the dresser, organize them into the drawers by type. Use one drawer for undergarments, one for shirts, one for pants, etc.
If you've got too much furniture in the room, making even a clean room look cluttered, move some of it out. One person should need only one dresser. If they have more than that, they have too many clothes-get rid of some!
Apply the same rule about knick-knacks and collections to the bedroom designs that you did in the family room -Choose a few to keep out. If you still want to keep the rest, Store them away and rotate them every season.
Now give the room a good cleaning! Start at the top, with the light fixture or ceiling fan, and work your way down until you get to the floor. Doesn't it feel great to have a clean bedroom?!
Okay, now we're ready to create our organized bedroom designs...
Let's take a look at how the furniture is arranged. Is it functional? Is it appealing to the eye? Does it flow well?
You need to have a clear pathway from the bedroom door to any other doors, and preferably windows as well.
The bed will most likely be the focal point of the room. If possible, don't place it in a corner, where more than just the headboard is against a wall. This could make your bedroom look smaller. Of course, every room is different, so do what works best for your space.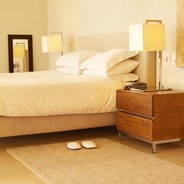 Place a side table next to one or both sides of the bed. This will add functionality and storage. Be picky about what you place on top-an alarm clock, lamp, and picture frame work well. The picture frame is there not only for decoration, but also to keep you from piling other things on the table. If you do need other small items on the table, get a small basket or other decorative container to place them in. Use any drawers or cabinet space in the end table for extra storage.
Follow this same advice for other flat surfaces in the room. Place a few well chosen decorative items, if you wish. Anything else should be out of sight in baskets or other containers.
Use vertical space to your advantage. Install shelving, if needed, up on the wall. High shelving along the perimeter of the room is a good place to display collections, awards, stuffed animals, or keepsakes. You could even use baskets or other containers there as a decorative element to store things that don't need to be out in the open.
If you choose to have a TV in the bedroom, put it in a cabinet or hang it on the wall. Don't make it the focal point of the room. Control cord clutter with twist-ties or special products made to hide cords.
Take advantage of any space available under the bed. Use plastic "under-the-bed" storage bins to store out-of-season clothes, blankets, or anything else. Make sure you don't put anything under there that is not in a container. If you do, it will just end up like it was before you started.
Don't forget about any new-found space in the closet that you can use for storage. Just remember to follow the rules, so your closet doesn't become a mess again!
Keep a clothes hamper in the bedroom or closet for dirty clothes. Let's not have dirty clothes laying all over the room anymore!
Wow, that was a lot of information! Well, are you ready for some more? Now we're going to give you some tips for specific types of bedroom designs.
Organized Master Bedroom Designs
Your master bedroom should be your sanctuary…a place of rest and relaxation where you can escape the stress of the day.
Okay, stop laughing! We know that's a pretty far-fetched concept for most moms, but we're going to do our best to help you make it happen.
Now here are some tips that don't really have anything to do with organization, but they will help your sanity, so we're including them!
1. Make your master bedroom off-limits to the kids-Yes, they will whine about it. But that is your space, not theirs. It's so important for moms and dads to have their own space. The kids have the rest of the house. It won't hurt them to stay out of your bedroom!
This doesn't mean they can never come in again. They just have to have permission first. Kids should not have free reign of mom and dad's bedroom.
2. Put a lock on your bedroom door-If your kids are used to being allowed to come into your room whenever they feel like it, rule #1 will take some getting used to. You can help them remember the new rule by locking your door. You don't have to keep it locked all the time. But there are times when you must have some privacy! Don't let yourself feel guilty about doing this.
As for organization and master bedroom designs, simple is best. If this room is going to be your sanctuary, you definitely don't want it to be cluttered with unnecessary items.
If at all possible, don't use your master bedroom for any purpose other than that. If it's absolutely necessary for you to have a home office area in your master bedroom, purchase a computer armoire that has doors on it. Find one that will house all of your office equipment and supplies. Keep the doors closed unless you are working there. You don't want to be reminded of bills that need to be paid when you're trying to relax!
Decorate your master bedroom in soothing, relaxing colors. Add a few elements that you enjoy, such as candles in your favorite fragrance. Really make your space grown up!
And finally…Enjoy your space!
Organized Kid's Bedroom Designs
Kid's bedroom designs will probably require a little more organization than the master bedroom. We have to find a way to organize all those toys, books, and stuffed animals-what a challenge!
The first thing you want to do is down-size. The mound of toys grows with each passing birthday and holiday. Once favorite toys are forgotten at the bottom of the toy box as new ones are introduced. So how do you get a handle on this ever-growing dilemma?
Here's an idea…once you've gone through the toys and gotten rid of all the ones that are broken or no longer age-appropriate, have your kids pick out their ten favorite toys. Pack the rest away in a place that is not too hard to get to. When the kids seem to start getting bored with the toys they have out, pull out the rest and let them pick ten new ones to keep out. Pack the others away. They will feel like they've got brand new toys again! Do the same with stuffed animals and dolls.
Several times a year, after each big gift event, go through the toys and do a purge. This is a great tool to use to teach kids about charity and giving. Or you can let the kids sell them to teach good money-management skills. Both are important things for your children to learn!
Now for organized kid's bedroom designs…
Get down on your child's level to get a good idea of his/her vantage point before you incorporate any design or organizational elements. You need to make sure your child can access their things without putting themselves in a dangerous situation (crawling up bookshelves, etc.). Secure all dressers, desks, and bookshelves to the wall so little ones can't pull them down on themselves.
Low shelves with baskets are great for organizing all those toys with little pieces that seem to end up all over the house. A toy box works well for the bigger toys. And every kid needs a bookshelf in their room filled with wonderful books to expand their fantastic little imaginations!
When a child reaches school age, it's important to have a desk in the bedroom. They need a place to do homework, keep supplies, and explore their creative sides through artwork. Supply them with appropriate storage items for the things they want to keep on their desk area, so it doesn't become cluttered.
As your child gets older, they will also enjoy having a place to display pictures or other important memorabilia. Placing a cork board or magnetic message board above their desk will provide them with a space to put these important items.
Put shelves up high to display items that kids won't be playing with, like trophies and awards. We don't want them to become toys and get broken.
If you have a TV in your child's bedroom, make sure that it is set up in a manner that they cannot pull it down on themselves. If you have to, set it on the floor. No, it's not the best design element, but we must consider safety first! Have a basket for video game accessories, so they are not left out to get broken. We all know how expensive those are to replace!
These same tips will work for teen bedroom designs. Just modify them as needed to the age of your child.
Organized Guest Bedroom Designs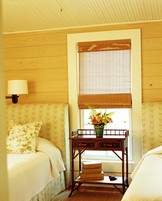 Guest bedrooms often function as more than just a bedroom. After all, they are not really used by guests that often in most homes.
If that is it's only function in your home, however, apply the tips for the master bedroom to the guest room as well. Make it a relaxing, enjoyable place for your guests to be. Add a basket with toiletries in case your guest forgets something. Leave extra blankets folded neatly in a chair or at the end of the bed. Think about the things that would make you feel more comfortable if you were staying in someone else's home.
When your guest bedroom must function as another room as well, keep things organized in a manner that will be easy to get out of the way when guests come. If it's also your home office, consider the computer armoire we spoke about before.
Sometimes, the main function is a home office, but you also must use it as a guest bedroom. Consider a sleeper sofa or futon, instead of an actual bed. It will save space, and you'll only have to pull it out when you need it. You'll still want to keep your office things put away. Your guests don't need to have easy access to your personal financial information.
Does your guest bedroom double as a craft room? Keep your craft supplies organized in clear plastic, labeled bins that are placed neatly on shelves. Only take out the items needed for the project you're working on and put them away when you're done. That way, you won't have a huge mess to clean up when you get a surprise visitor!
Organized bedroom designs take a little work and planning, but they have great rewards! Just take it slow and tackle one room at a time. Start with your own bedroom, so you'll have a relaxing place to crash after working on all the others!
Have fun!
For more tips on organized bedroom designs, subscribe to "The Calm Mom".
Out the Door Station| Laundry Room| Kitchen| Bathrooms
Family Room| Closets| Home Office| Garage
---
Subscribe to "The Calm Mom" Newsletter
Leave Bedroom Designs Page
and Go Back to My Home Page