Kitchen Organization
for Busy Moms
Kitchen Organization can be a tricky thing. Some of us don't have enough storage. Others have a space that is laid out poorly. Still others just don't want to take on such an incredible task as organizing our kitchen.
Well, since most of us can't have that state-of-the-art kitchen we dream of (not just yet, anyway), and we can't afford to hire a professional organizer to come in and do it for us, we must roll up our sleeves and face the job of kitchen organization head-on!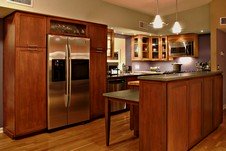 So, how do we do that?
Give yourself time. Unless you have a few hundred dollars set aside to put into kitchen storage solutions, you will have to take this slowly. Yes, you can organize things as best you can with what you've got to work with. We'll even give you some tips on how to do that! But if you're needing to purchase storage solutions, just take it slow. Maybe add one item per month until you've got everything you need.
You can purchase inexpensive items at your local home improvement or department store that will make a huge difference in your kitchen organization. Of course, they have the pricey options as well, if that is in your budget.
Here are some storage solution products that will help you out:
Pot Rack-You can get a fancy one if you want, but there are also some more simple alternatives available. Pot racks open up a whole cabinet for other storage and they are a decorative element as well.
Cabinet Organizers-These come in a variety of ways to fit any possible kitchen storage need! You can get slide-out drawers, shelves, plate racks, vertical racks, over-the-door hangers, and the list goes on. There's no way we can name all of the items available. The best thing to do is look online for kitchen storage solutions or go to the store and see what will best fit your needs. You can dramatically add to your space by using the products that will work best in your kitchen.
Drawer Organizers-Every kitchen has a junk drawer and a silverware drawer, as well as various other well-meaning drawers. Use drawer organizers to keep things in order. You'll be able to actually find things when you need them!
Utensil Holders-Open up drawer space by moving your big utensils out in the open. You can get a stationary countertop holder or one that turns. You can also get holders that attach to the wall for hanging utensils. Another cool idea is a magnetic strip that holds your knives.
Sink Baskets-These neat little baskets hang over the middle of your double sink or use suction cups to attach to the side of any sink. They can hold all of your dishwashing items, such as sponges, brushes, etc.
Spice Racks-These handy little racks will also free up cabinet or pantry space, and they can be very decorative as well. You are sure to find one that fits your décor and your space needs.
Pull-Out Trash Cans-If you've got a lower cabinet you can free up, adding a pull-out trash can will really add function to your kitchen. The trash can is hidden in the cabinet, freeing up floor space and keeping the trash out of sight.
Working with what you've got: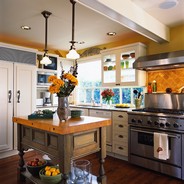 As you're working to add storage solutions to your kitchen, you can do a lot by organizing what you already have.
First things first…you need to go through your kitchen from top to bottom and get rid of items you don't need or don't use. There's no reason to hold on to items that are just taking up space. Sell them or give them to someone who needs them. Conquer one cabinet a day or one cabinet a week, if you need to. Don't let it overwhelm you!
Do the same thing with your pantry, refrigerator, and freezer. Clean it out! If it's bad, throw it out. If it's good, but your family won't eat it, give it away.
Once you've got that done, put things back in an organized manner. Store cooking items close to the stove. Put frequently used items within easy reach. In the pantry, place similar items on the same shelf (all canned goods together, all cereal together, etc.). Really make it work for you!
Now for maintaining your kitchen organization: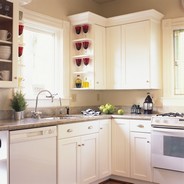 Let's start with the food, both in the pantry and the refrigerator. If you've ever studied accounting, you'll recognize the term FIFO (first in, first out). It's an inventory term that means whatever is brought in first, goes out first. It's a very important concept to use when dealing with food.
If you move the older items to the front each time you put away groceries, you'll have much less waste. You won't have to throw away food that got lost somewhere in the back of the pantry or refrigerator and expired before it was eaten. You'll also avoid duplicate purchases because you'll be able to see what you've got before you go to the store.
When working in the kitchen, cooking or cleaning, make sure to always put things back in their designated space as soon as possible. This will keep things from becoming disorganized again. Don't allow your family to bring disorganization back into your kitchen either. Be patient with them as they learn the new system, but also be persistent!



You can do this! Once you have it done, your kitchen will work so much better for you that you'll wonder why you put it off so long. Kitchen organization will make your life easier! We're here to help along the way.
Subscribe to "The Calm Mom" for more kitchen organization tips.




Out the Door Station| Laundry Room| Bathrooms| Family Room
Bedrooms| Closets| Home Office| Garage
---
Subcribe to "The Calm Mom" Newsletter
Leave Kitchen Organization Page
and Go Back to My Home Page