Closet Organization
for Busy Moms
Closet organization is an important part of an organized home. You can create more storage just by cleaning, purging, and making good use of your existing closet space. Getting your closets in order first will also help when it comes time to organize the bedrooms.


So let's get right to it…
Closet Organization Tips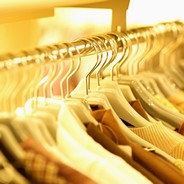 1. Take everything out of the closet-Start with a clean slate. This way, you can really see what you're putting back into your closet. If you don't really need it or you haven't used it in the last year, get rid of it! It's okay to keep a box for keepsakes, but just one. Anything more than that should be stored in an attic, basement, or storage building.
2. Go through the clothes-Get rid of anything that hasn't been worn in the last year. Also, get rid of anything that doesn't fit or is stained or torn.
If you need to keep clothes that don't fit right now (pregnancy, hand down to younger child, etc.), store them in a plastic bin with a lid. Depending on your floor space, you can place it in a corner out of the way, use smaller bins and store them in the top of the closet, or use an "under the bed" bin and store them under the bed.
It is best to store your out-of-season clothes this way as well. The goal is to have only the clothes hanging in the closet that are currently being worn on a regular basis. This rule also applies to the clothes in your dresser.
3. Use a shoe organizer-There are lots of different kinds of shoe organizers out there…racks, cubbies, over-the-door hangers. All of them provide a place to keep your shoes off the floor.
Now we know that some of you are shoe lovers, and we don't want to upset you…but…you need to purge the shoes too. Yes, we know it hurts! We're really sorry! Just think about how much money you could make off those shoes on Ebay, though-maybe you could buy one of those expensive closet systems with it!
But seriously, if you don't wear them, why keep them? If you're just not able to part with them, at least store the out-of-season ones. You could also pick a few to keep out, store the rest, and rotate them out every few months. You'll feel like you've got a whole new shoe wardrobe every time!
4. Organize hanging clothes by type-Hang all the pants together, dresses together, shirts together, etc. If the closet is shared, each person's clothes should be sorted this way in his/her individual designated space of the closet.
5. Hat Racks, Belt Hangers, & Tie Holders-You want to get things off the floor. Hat racks, belt hangers, and tie holders will help you get these items up where you can see them, and keep them in good condition. The same rule applies to hats, belts, and ties-if you haven't worn them in a year or they are torn and stained, get rid of them!
6. Use clear bins for storage-Any other items that need to go back into the closet as you finish up your closet organization should be placed in clear plastic bins. You want to be able to see what you have, so it doesn't get forgotten.


Now that you've got closet organization conquered, let's move to the bedrooms . After all, you've got more space in your closet to store things now!


Out the Door Station| Laundry Room| Kitchen| Bathrooms
Family Room| Bedrooms| Home Office| Garage
---
Subscribe to "The Calm Mom" Newsletter
Leave Closet Organization Page
and Go Back to My Home Page